How to Start Playing Poker at 1Win?
To become a full user of 1Win, every Bangladeshi user must go through the registration process and create a personal game account. This is a prerequisite so that you can receive bonuses from the bookmaker, receive winnings on your bets and withdraw your winnings without restrictions.
You only need to register on the official website of the bookmaker or in the application. You can only create a personal account once, so it is recommended that you remember your personal information to avoid problems in the future.
Therefore, creating an account takes several minutes and requires the following steps:
Go to the official website of the bookmaker.
On the main page, click on the "Register" button.
Enter a valid email address and create a secure password (for security reasons, do not share your profile information with anyone).
Select the desired currency (BDT or any other currency you like).
Click on the "Register" button.
Complete the registration by filling in all required fields (you will receive a confirmation email upon completion).
If you follow our instructions carefully, you'll be up and running in minutes. After this simple procedure, you can start playing poker.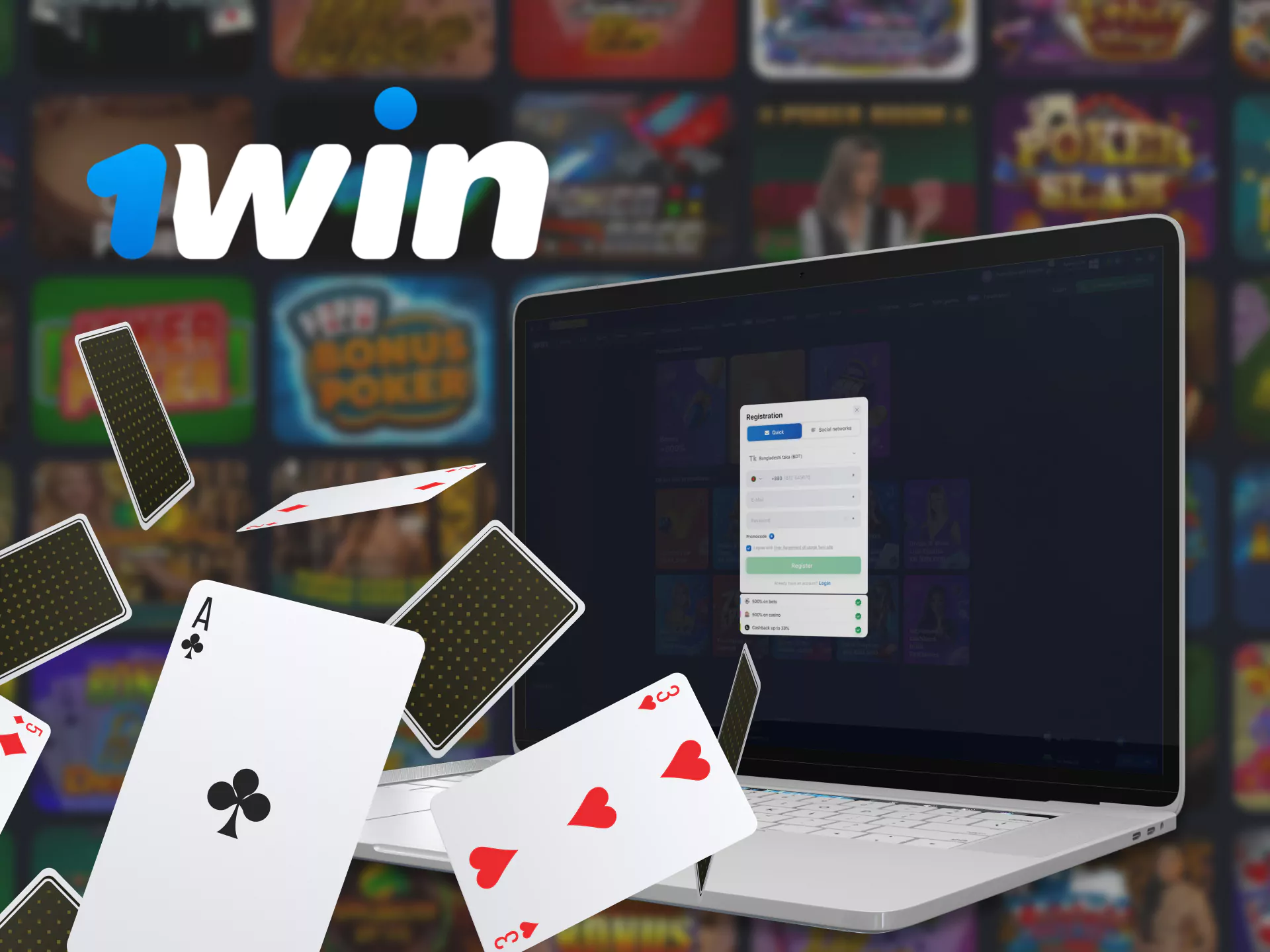 Let's say you're playing a single-table tournament:
When all ten seats are filled, the game will begin and you will be assigned a seat at the table.
The game starts after the dealer button (labeled "D") with two players posting the blinds (bets without seeing the cards), the small blind and the big blind (SB small blind and BB big blind).
Each player is dealt two cards. The player immediately after the big blind acts first.
When it's your turn to act, you have the option to call, raise or fold. If it's the small blind, you've already posted half the amount needed to see more cards. If you're the big blind, you've already put in the amount needed to see more cards, unless the player raised before you spoke. If there is a raise, you can either reraise, call, or fold.
Flop: Three community cards are dealt face up on the table. All players who didn't fold before the flop now have the opportunity to use those three cards to improve their hands. At the moment there is another round of trading. If no one bets, you can check and see the next card without putting any more money into the pot. You need to call or raise if you want to see the next card.
Turn: The fourth card is dealt face up on the table. Again, all players can check, bet, call, raise or fold, depending on the actions of other players.
River: The fifth and last community card is dealt face up on the table. Here we see the last round of trading. If one player bets and the other calls, both players must reveal their two cards so we can determine who is the winner of that hand.
At any time, if no one calls the bet, the player collects the pot completely, this person has the opportunity to show or not to show his cards (not to show his cards is called a discard).
After the winner is determined, a new hand begins, after which the dealer button moves one position clockwise. Blinds usually increase after a predetermined period of time.
After the last person is eliminated, the prize pool is divided and the tournament ends.
Live Casino Poker at 1Win
Poker is a game of skill played in online casinos and poker sites around the world. For decades, poker has been played in "house games" played at home with friends, although it has been banned in some places. More recently, poker has been played online, giving people the freedom to play their favorite modality for as long as they wish, and always with many opponents ready to take them on at any time of the day at the real money and play money poker tables.
The best rooms like 1Win have literally thousands of players every day. Every type of game imaginable, including the popular Texas Hold'em can be played with a minimum deposit. Since poker has become a global game, thousands and thousands of players can play in these poker rooms at any time, playing against opponents that can be more than 5000 km away.
Two Hand Casino Hold'Em;
English Casino Hold'Em;
Poker B;
Carribean Stud Poker;
Triple Card Poker;
Side Bet City;
Poker Speed;
Teen Patti 3 card;
Ultimate Texas Hold'Em;
Bet on Poker and many other poker variations.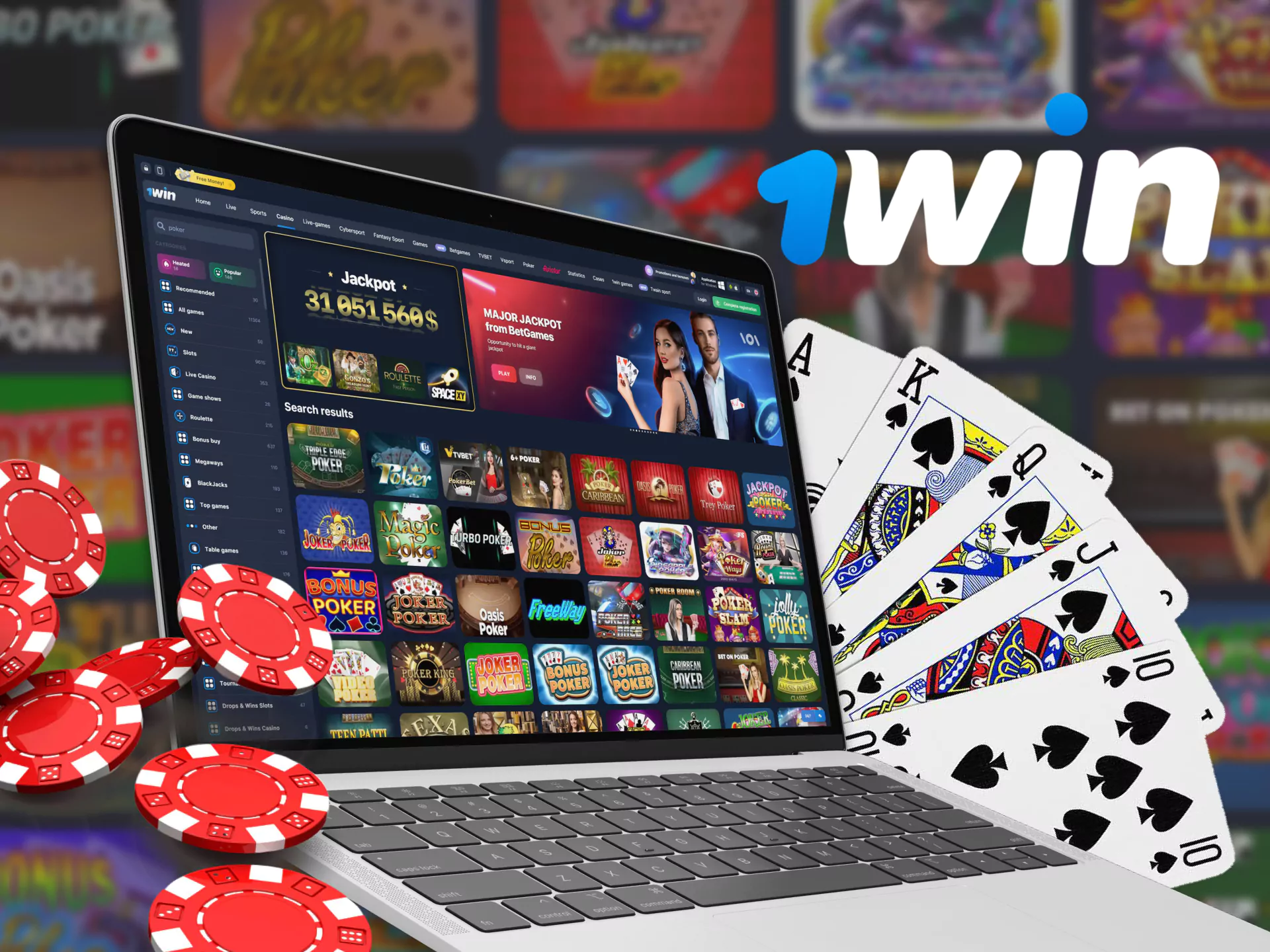 1Win Bonuses for Poker Players
1Win gives its fans a special cashback, recognizing their loyalty to the bookmaker. Poker fans can use this bonus to cover their playing expenses. To qualify for this cashback, you need to spend a minimum of 125,600 BDT per week in the casino section. Depending on what you spend in a week, you will receive a certain amount of money. This promotion does not apply to bonus money, so bonus money will not count toward the refund. To make your gaming experience even more rewarding, take advantage of this offer if you are a new guest.
| Last week's spending | Ratio of cashback | Cashback maximum |
| --- | --- | --- |
| At least 125,600 BDT | 1% | 3,700 BDT |
| At least 376,000 BDT | 2% | 5,000 BDT |
| At least 628,000 BDT | 3% | 6,200 BDT |
| At least 1,005,000 BDT | 4% | 10,000 BDT |
| At least 1,250,000 BDT | 5% | 18,800 BDT |
| At least 12,560,000 BDT | 10% | 25,100 BDT |
| At least 25,120,000 BDT | 20% | 37,600 BDT |
| At least 62,800,000 BDT | 30% | 62,800 BDT |
You can also use promo code 1WBENGALI to increase your welcome bonus by 30%.
1Win App for Poker Players
In addition to the official website and computer, smartphone and tablet users also have the opportunity to have an unforgettable time with exciting bets on 1win through the mobile application. A lot of effort has been put into making the app perfect and appealing to all sports and gambling lovers. The application is multifunctional, has a nice unobtrusive design, and is optimized for both Android and iOS devices. It combines all the necessary tools for comfortable betting and gambling.
The application is completely identical to the 1win website, so users have the ability to: create an account, deposit and withdraw money, bet on sports, have fun in online casinos anywhere and anytime, and all they need is a phone. To make the betting process even brighter and more emotional, you just need to download 1Win application, and it will only take a few minutes.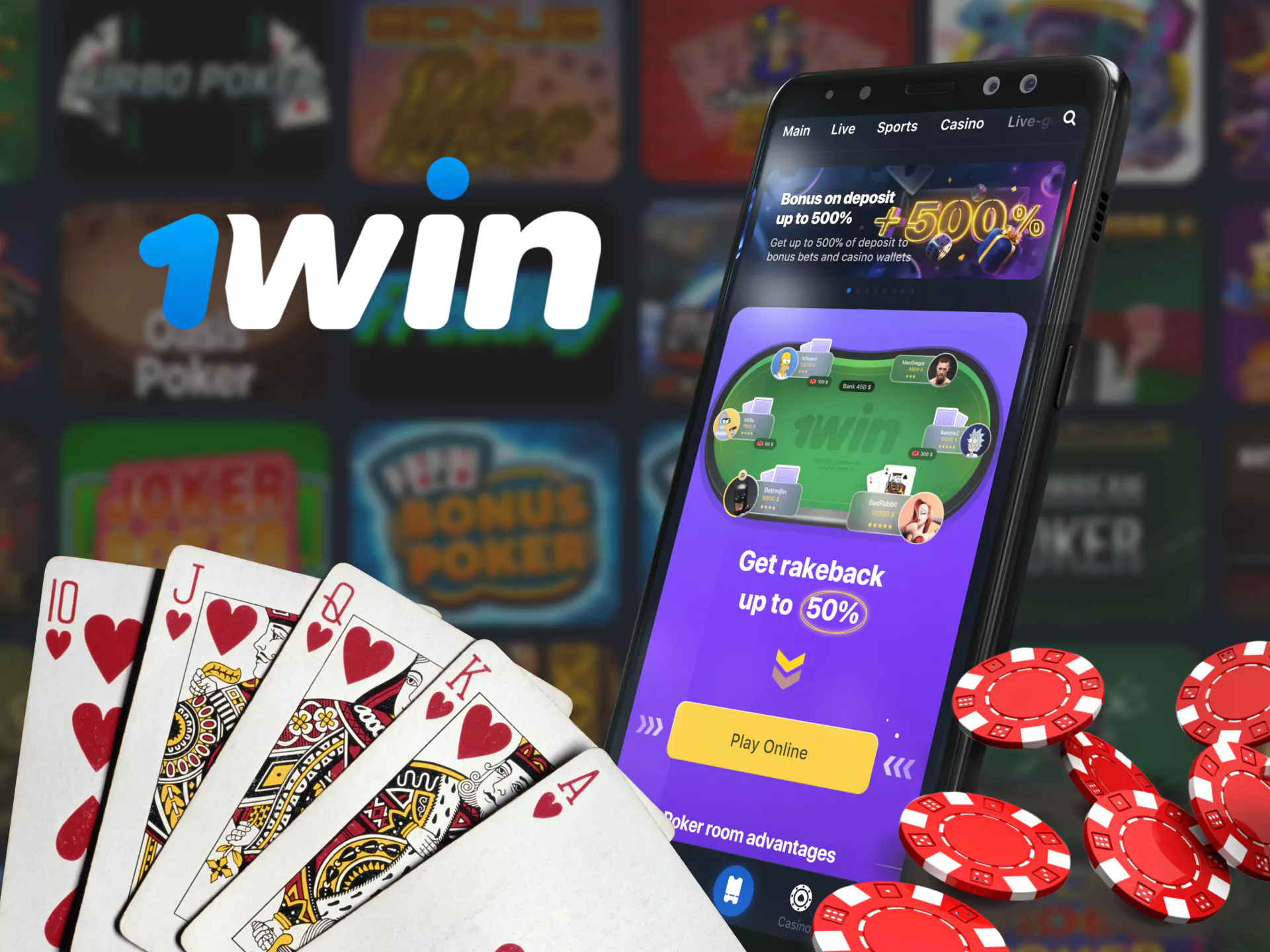 FAQ
How to win at poker?

There are two ways to win at poker. In the most common of these, the winner of each poker hand is the player with the highest hand at the time all cards were shown at the end of that hand. However, the deal does not always end with all players showing their cards. Throughout the hand, players can place bets. If a player bets and no one else agrees to pay, he becomes the winner of that hand without having to reveal what cards he had.
How to start playing poker?

Poker games are always played clockwise and have mandatory minimum bets called small and big blinds. The game starts with the players sitting after the dealer. The two players to the left of the "dealer" must post the big blind and small blind, respectively.
What is Royal Flush?

The best poker hand that no other hand can beat is a royal flush. It consists of an ace, king, queen, jack and tens of the same suit.
Updated: